Multiple Technical Papers from SYTECH Selected in the 20th CCLA Technical Seminar Proceedings
On Oct 18, 2019, the 20th CCLA Technical Seminar was held in Suzhou. Mr. Dong Xiaojun, Vice General Manager of SYTECH and Chairman of Suzhou Shengyi, attended the meeting and delivered a speech as the Vice Chairman of CPCA and Chairman of CCLA.

Multiple technical papers from SYTECH were approved by the committee, and selected in the 20th CCLA Technical Seminar Proceedings.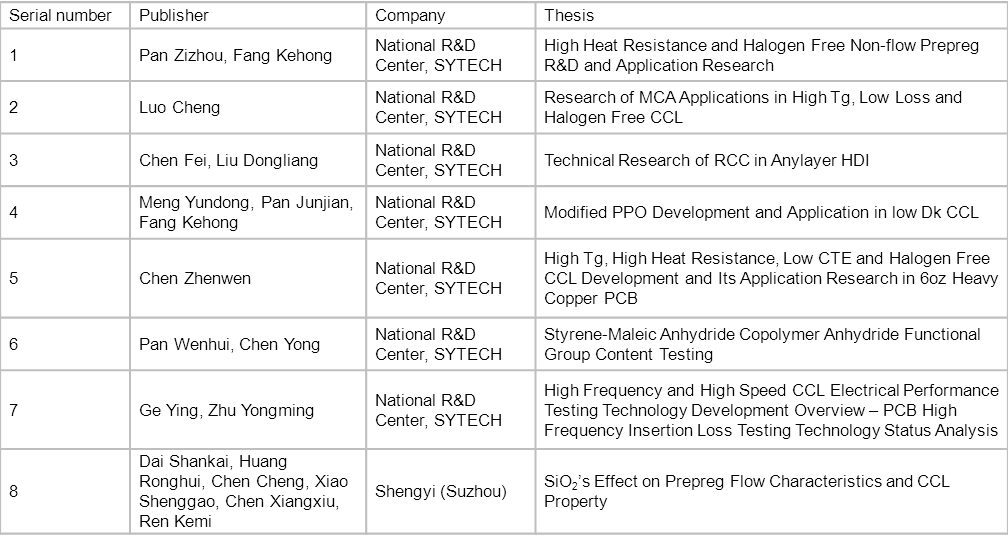 Among them, Modified PPO Development and Application in low Dk CCL (No. 4), High Frequency and High Speed CCL Electrical Performance Testing Technology Development Overview – PCB High Frequency Insertion Loss Testing Technology Status Analysis (No. 7), and SiO2's Effect on Prepreg Flow Characteristics and CCL Property (No. 8) were awarded Excellent Paper of the 20th CCLA Seminar Cup.

Mr. Shi Jianying, Chief Engineer of Shaanxi Shengyi was invited to deliver a workshop, Analysis of Hydrocarbon CCL Design and Development, in the CCL product and technical report seminar.