SYTECH Participated in the 2019 PRODUCTRONICA Fair in Germany
Productronica Fair is a world-famous electronic product and semiconductor annual event. The 2019 Productronica was held in Munich, Germany from November 12-15. Numerous electronic component, semiconductor, CCL and equipment companies around the world exhibited in the Fair, demonstrating the latest products and technologies. SYTECH's automotive base material are well recognized by world top automotive Tier 1s. SYTECH's S1000 and Autolad series can be frequently found in internationally renowned automotive end users.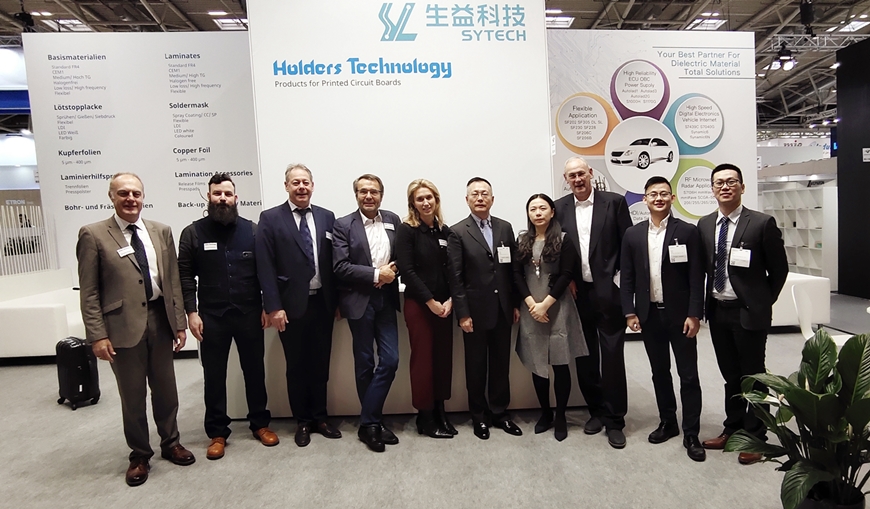 During the Fair, many world famous end users, ODM/OEM like Bosch, Continental, ZF as well as leading PCBS such as AT&S, Schweizer, Unimicron, and Fuba visited our booth. Their top management had in-depth communication with us regarding current and future cooperation. Customers from emerging market, such as Israel, Russia, and Slovenia, also visited the booth to discuss cooperation opportunities.

Productronica Fair has become an important stage, in which SYTECH competes and develops with peers and the industry. SYTECH is dedicated to providing comprehensive and more reliable electronic circuit material solutions to the development of global automotive electronics industry. This business concept and dedication is well recognized by the industry.